Bergamot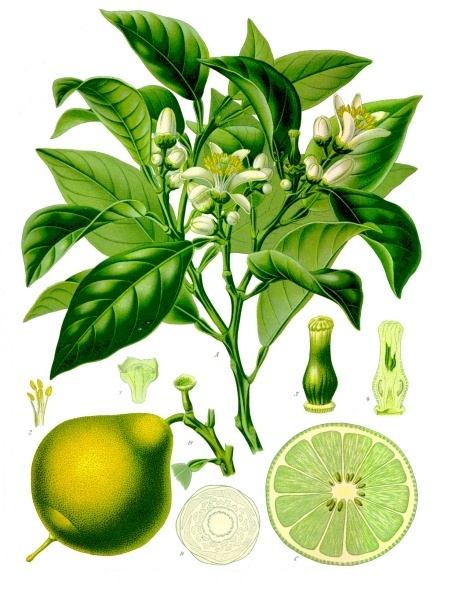 An oil for those stressed, sad + sleepless times
Bergamot
Citrus bergamia or Citrus aurantium ssp. bergamia
Rutacea family
The clouds have been covering the sunshine for days now and it's times like this that I notice my mood begin to take a slight downturn. You would think that after years of living in overcast weather I would be used to it, but I am someone who lives for the sun. So when the sun isn't cooperating, I bring out one of my very favorite essential oils: Bergamot. It literally smells like sunshine. Bergamot is my go to oil for those stressed, sad + sleepless times.
Citrus bergamia, otherwise known as Bergamot, is a small tree that grows in Southern Italy, France, and Turkey. The essential oil is made by expressing the peel of the Bergamot fruit, which is smaller than a sweet orange and typically yellow in color. It has been used for two centuries in perfumery and is often used as a flavor in Earl Grey tea.
Bergamot is the oil that I use most for emotional + spiritual complaints.. With a floral, citrus scent and a beautiful olive green color, it has a refreshing and clearing quality that always lifts my spirits and helps me to settle. Bergamot is an oil for the emotional + spiritual heart and as a result whenever I inhale it's scent it just makes me smile. It makes everyone smile.
Now for the chemistry lesson:
Looking at the chemistry of an essential oil can tell us about it's safety, toxicity and in some cases it's therapeutic possibilities.
Bergamot is high in the Monoterpene d-Limonene (27-52%) [1] which is present in citrus peels and gives the characteristic citrus scent and the Ester, Linalyl acetate (17-40%) thought to give it relaxing effects [2]. Of particular importance for safety (see below) is the Furanocoumarin called Bergapten which gives the oil phototoxic properties [3].
Safety:
So, what's not to love? Well, about that phototoxic part…Bergamot contains bergapten and other furanocomarins, which sound like the names of man-eating dinosaurs but are really chemical compounds that make this a highly phototoxic oil. So, we recommend only using Bergamot on the skin in preparations of .4% or less. In other words, use 2 drops of Bergamot in 1 ounce of a carrier oil. What if you accidentally overdose? No need to panic: just wait 12 hours before being exposed to sunlight or a tanning bed.
RESEARCH
Research on Bergamot essential oil has looked at it's benefit in the following areas
Regulate the autonomic nervous system (blood pressure and heart rate) [4]

Depression and anxiety [5]

Sedating + Relaxation qualities [6, 7]

Lowered salivary cortisol [8]

Anti-inflammatory [9]

Antiseptic [10]
USE
Historically and in current aromatherapy practice Bergamot is used for:
Mind + Emotions: Used for boosting low moods, decreasing irritability and promoting optimism
Body: Helpful for stress related complaints such as indigestion related to nerves and poor appetite
Skin: Used topically (diluted) on cold sores and in combination with other essential oils for viral related skin conditions
INSIDER TIPS
Remember that you want your supplier to provide the following information about their essential oils…
Common Name: Bergamot
Latin Name: Citrus bergamia
Country of Origin: Most common countries include Italy (90% of world production comes from the Calabria region in Italy) [11], Greece, Morocco, Iran and Ivory Coast, Argentina, and Brazil
How was it grown: Organically, ethically, wild-harvested, or conventionally
Extraction: Cold pressing the fruit peel
RECIPES
As mentioned before, I primarily use Bergamot for it's "sunshine in a bottle" effect, thus the recipes you see below are how I use it when I'm looking to improve my outlook or when I'm finding myself getting too bogged down in the mundane details of life. A dear friend told me just last week that she puts the Uplift blend on her lava bead bracelet at 2pm when she's noticing an energetic slump and it does the trick. Think stressed, sad, + sleepless when thinking about how you can begin to incorporate Bergamot into your daily routines.
For those that don't want to make their own Bergamot recipes or need to purchase Bergamot to make their own recipes visit our shop where you can find Bergamot EO, Uplift Blend, + Relax Blend.
UPLIFT + INHALE
I created this blend on yet another Nashville overcast day and found that it just made me feel cheery. In fact so cheery that it has become the blend that I use whenever my mood has tanked or the sky is gray.
Supplies
3 drops Bergamot
2 drops Grapefruit
1 drop Orange
Step 1: Add the mixture of above oils to your diffuser and let it's happy aroma fill the air. Remember to turn diffusers off after 20-30 minutes of use. Feel free to turn back on for 20-30 minutes every 1-2 hours. If you're on the go, add this blend to an aroma stick, a cotton ball, or to a lava bead bracelet and inhale as needed throughout the day.
* Remember if you do use the lava bead bracelet, you will need to avoid the sunlight on the off chance that the oil has made contact with your skin.
UNWIND BATH SCRUB
Ahh the nighttime Bergamot sugar scrub. The perfect way to unwind and let the cares of the day wash away.
Supplies
1/4 cup organic sugar
1/4 cup organic base oil. For a rich oil, try olive oil or jojoba. For a lighter oil, try sweet almond or grapeseed. (By the way, if you only want to smell the essential oils, don't use olive oil, which can have a pungent smell but one which I personally find delightful.)
1 mixing bowl and spoon
1 glass airtight container
Step 1: Measure 1/4 cup organic sugar (organic brown or white) & 1/4 cup organic base oil of your choice
Step 2: Add 20 drops Bergamot (Citrus bergamia) and 25 drops Lavender Lavendula angustifolia) to the 1/4 cup base oil and mix thoroughly
Step 3: In a mixing bowl slowly add the oil to the sugar mixing thoroughly. Add to desired consistency which may mean you do not use the entire oil mixture or that you add more sugar
Step 4: Get in the bath and scrub your skin, enjoying these relaxing fragrances
Step 5: Seal in an airtight container and store in the refrigerator. Use within the week
*Note: This makes the scrub a < 2% dilution of essential oils to base. Bergamot is <1% but can still be phototoxic. Make sure to rinse thoroughly after bathing if you plan on being in the sun within the next 12 hours

Footnotes:
Tisserand, R. and Balacs, T. (2014). Essential oil safety: A guide for health care professionals. Churchill Livingston: Edinburgh. P. 121.

Igareshi, T. (2013). Physical and psychologic effects of aromatherapy inhalation on pregnant women: a randomized controlled trial. Journal of Alternative and Complementary Medicine. 19(10):805-10.

Tisserand, R. and Balacs, T. (2014). Essential oil safety: A guide for health care professionals. Churchill Livingston: Edinburgh. P. 121.

Chang, KM. and Shen, CW.(2011). Aromatherapy benefits autonomic nervous system regulation for elementary school faculty in taiwan. Evidence based complementary alternative medicine: https://www.hindawi.com/journals/ecam/2011/946537/

Buckle, J. (2015). Clinical aromatherapy: Essential oils in healthcare (3rd ed.). St. Louis, MO: Churchill Livingstone + Wa

Occiuto, F, Limardi F, Circosta C. (1995). Effects of non-volatile residue from the essential oil of Citrus bergamia on the central nervous system. International journal of pharmacology. 33(3): 198-203.

Peng, SM, Koo, M, Yu, ZR. (2009). Effects of music and essential oil inhalation on cardiac autonomic balance in healthy individuals. The journal of alternative and complementary medicine. 15(1): 53-57.

Wantanabe, E. et al. (2015). Effects of bergamot ( Citrus bergamia (Risso) Wright & Arn.) essential oil aromatherapy on mood states, parasympathetic nervous system activity, and salivary cortisol levels in 41 healthy females. Forschende Komplementärmedizin / Research in Complementary Medicine. 22(1):43-9.

Karaca, M, Ozbek, K, Him A, Tutuncu M, Akkan, HA, Kaplanoglu V. (2008). Investigation of anti-inflammatory activity of bergamot oil. European journal of general medicine. 4(4): 176-179.

Mandalari, G. et al. (2007). Antimicrobial activity of flavonoids extracted from bergamot (Citrus bergamia Risso) peel, a byproduct of the essential oil industry. Journal of applied microbiology. 103(6), 2056-2064

Navarra, M. et al. (2015). Citrus bergamia essential oil: from basic research to clinical application. Frontiers in Pharmacology. 6:36.